25. The War on Drugs - Slave Ambient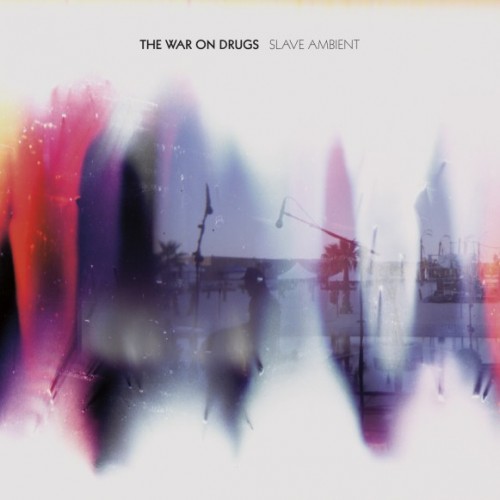 Sputnik called this album "America, broken into a hundred tiny pieces." I can't think of a better phrase to sum up this album so perfectly. It's easy to get lost in the layers of sound. At the center of the music, lay vocals shrouded in reverb. If you were to pay attention to the lyrics, Slave Ambient tells the story of a man struggling to find his place in the world. This is the band's most focused release to date and the effort certainly shines true.
24. Actress - Splazsh
An enigma wrapped in an overused idiom, Actress lays somewhere between Fly Lo and the static in between radio frequencies. It's a confounding record, not in a negative way though. Splazsh is at its best when you have no idea what's going on around you and you don't seem to care.
23. Lykke Li - Wounded Rhymes
"Youth Knows No Pain" is the perfect opener to Wounded Rhymes. An album that feels reckless and free, Li crafts an organic dance album that uses unique instrumentation and clever, stark lyrics. This release will have you humming its melodies all day, in want of more and more. 
22. Smith Westerns - Dye It Blonde
It's impossible to listen to Smith Western's sophomore effort without being instilled with a sense of adolescence. Every song reminds you of the time you first fell head over heels or videotaped stupid shit with your friends. The band is only 19-20 years old, but they have crafted a mature sounding record that never feels age exclusive or juvenile.
21. Thurston Moore - Demolished Thoughts
Accompanied by only light strings, Beck production, and a harp, Thurston Moore continues to put out excellent music. Despite being mostly an acoustic record, Moore does reveal his noise roots on tracks like "Circulation" and "Orchard Street", only taking a more classical approach. The album is nine tracks long, keeping every song over four minutes long. It's a testament to just how talented Moore is and his ever-present growth as a songwriter. 
20. M83 - Hurry Up, We're Dreaming
Anthony Gonzalez has a knack for making epic music. On M83's sixth effort, the band ascertains that epic feeling throughout the double album. Never feeling overwrought or sloppy, Hurry Up, We're Dreaming reminds us of the wonder of being a child and all the joys that come along with being so you and innocent.
19. Girls - Father, Son, Holy Ghost
Continuing Broken Dreams Club's up-tempo rock, Girls' third record is a throwback to hotrod rock. Diverging from their normally friendly sound, "Die", sounds like a deep cut from Black Sabbath's discography, showing a band that has the ability to expand outward. It's safe to say Girls will only release material they feel confident in, and with Owens and White knowing exactly what sounds right, it's safe to assume Girls' next release will be just as solid as the trilogy before it.
18. Tim Hecker - Ravedeath, 1972
The year's best ambient release, Ravedeath, 1972, offers beautifully caliginous soundscapes that were handcrafted from an organ recorded in an Icelandic church. The album artwork shows the annual event at MIT where students drop a broken piano off the roof. This is exactly what the album sounds like – a classical instrument tumbling to its impending doom. Ravedeath, 1972 is one of the year's best headphone listens too. 
17. tUnE-yArDs - W H O K I L L
Sounding like a children's book on some kind of drugs, Merrill Garbus continues her project that is good as it is annoying to spell out. W H O K I L L is the most fun listen I had all year. Using sparse instrumentation and unique vocal loops, Garbus sings clever lyrics in her interesting delivery. This is certainly an idiosyncratic release. 
16. EMA - Past Life Martyred Saints
Opening with "The Grey Ship", a seven-minute, two-movement, personal epic, EMA lays the groundwork for a catharsis so personal, yet somehow not tied down by its specificity. Anderson clearly has problems, but they don't come off as stale or boring. It's a dark, winding path; nonetheless, it provides an alternative view of the world's injustices.
15. Iceage - New Brigade
Garnering a lot of attention from their live shows that leave kids bloody and battered, Iceage accomplish a lot on their debut. Channeling a Wire-esque post-punk, the young band from Copenhagen give us twenty-six minutes of pure attack. Although it may be impossible to capture their live shows in a recording, New Brigade certainly does its best.
14. Wild Flag - Wild Flag
Formed by former members of Quasi, Sleter-Kinney, and Helium, Wild Flag produce the best straight rock and roll album of the year. Each song is a study in melodic attack. Sounding a lot like a continuation of Sgt. Pepper, Wild Flag accomplishes pushing psychedelic rock further into the harder spectrum with ease. 
13. Bon Iver - Bon Iver
The album that launched a thousand hate posts, Bon Iver is an excellent exercise in musical compostion. Difficult to pin down to just one genre, Justin Vernon creates a sweeping album that wrestles with sense of place. Although it is plagues with a godawful closing track, "Beth / Rest", the record should not be judged solely on its ability to close. Vernon has put together something really special and it should be seen as such. 
12. Destroyer - Kaputt
Coined "Cocaine rock" by a close friend of mine, Dan Bejar creates a portrait of America from behind the curtains. It feels sleazy at times, despite having crystal clear, clean production. This is America in the 80s, but not the one they would ever teach you about in school. 
11. St. Vincent - Strange Mercy
I stand by my statement that if Annie Clark hadn't toured with The Age of ADZ, Strange Mercy would have come out much different. Clark has always ventured into expressing the relationship between the reserved and the chaotic, but this release sees her leaning towards the chaotic. Using more cutting guitars and vocal effects, Strange Mercy will leave you dancing around your kitchen like an idiot.
10. Real Estate - Days
Real Estate's self-titled debut is one of my favorite albums of the 2000s. Moving past the lo-fi production of its predecessor, Days still elicits the same groggy feeling as Real Estate, despite being much clearer. It just goes to show that it was the message and not the media. There are still plenty of cloudy day jams, but the band doesn't dawdle on the way there. This is a very focused release from a still growing band. 
9. Zomby - Dedication
His first release on 4AD, Dedication accomplishes so much, despite feeling unfinished. It's a complex, dark album that offers not one low point. The record bookends its longer songs and keeps most of the shorter songs in the middle. It's a record that never really finds itself, but it's the feeling of being lost that elicits more and more listens. Zomby is an interesting character. I wouldn't be surprised to see him scrap everything here and reinvent himself again next year. 
8. The Weeknd - House of Balloons
Although often credited to being a mixtape, the only thing aligning it to that nomenclature is its free price tag. Expanding leaps and bounds upon the 808 formula, The Weeknd accomplish something really special on their debut and also on their two follow ups, Thursday and Echoes Of Silence. This is a dark party to attend, often ending up exactly how the host intended. Implementing sub-bass, Abel Tesfaye sings beautifully over beats that usually contain two movements, spanning a dark, vast soundscapes. 
7. Clams Casino - Instrumentals
When I first learned of Clams Casino, I only knew he produced for Lil B. After that, it was difficult to see him in a different light, until I heard "Motivation". This song paves the way for an album that's as hazy as it is clear. Sounding like a James Bond movie set in the future and played in slow motion, Instrumentals details just how this guy established a whole new sound in indie rap production – based.
6. Fucked Up - David Comes to Life
A colossal concept album, Fucked Up reimagines what hardcore music can do. The band creates an entire town and cast of characters to live out their story. Using melodic guitar melodies, crushing drums, and dual male/female vocals, Fucked Up produce an immense record. Spanning eighteen tracks over an hour length, David Comes to Live does just what the title sets out to accomplish, creating a life from music. 
5. Nicolas Jaar - Space Is Only Noise
Warranting about a dozen listens in order to allow the listener full comprehension of its material, Jaar creates a vast soundscape covered in layers of confusion and dust. At first listen, I was confused as to what all the talk was about, but around the sixth listen, to which I couldn't understand why I was drawn back, it all came together. Even though it was recorded over the span of about three years, Space Is Only Noise feels like one solid effort. It's scary this dude is only 21 years old. 
4. Shabazz Palaces - Black Up
Part rap, part afrocentricism, part bass music, and part ghost, Black Up is one of the best rap albums to come out in recent years. The beats sound like they come from a dark, future dystopia. Each song is broken into two movements, providing two different interpretations of the same musical seed. The lyrics are clever, the beats are advanced, and the whole album coalesces into one of the best records from 2011.
3. Kurt Vile - Smoke Ring For My Halo
Album opener, "Baby's Arms", floats from ear to ear using reverberated acoustic guitar and electronic pitches. This is pretty much the whole album: simplicity wrapped in layers and layers of carefully placed noise. After leaving The War On Drugs, Vile was rewarded with more time to focus on his solo effort. The time was obviously well spent, as Vile releases one of the most captivating records of the year.  
2. PJ Harvey - Let England Shake
Tackling larger issues such as war and nationalism, Harvey's tenth studio effort is continental in size. Harvey took over two years to write Let England Shake, most of which was recorded live in St. Peter's Church, located in England. Harvey commands chaotic highs and haunting lows, all the while creating one of the most politically aware and challenging albums to come from England. 
1. James Blake - James Blake
After Kalvierwerke EP, it was clear to see that Blake would take more of a songwriter's approach to his full-length debut, featuring more of his own voice, still embedded in his dynamic production. James Blake does not let either side down, finding a balance between club bangers and bedrooms. The end result is an album making its own path.